Next time I make dinner, we're having these///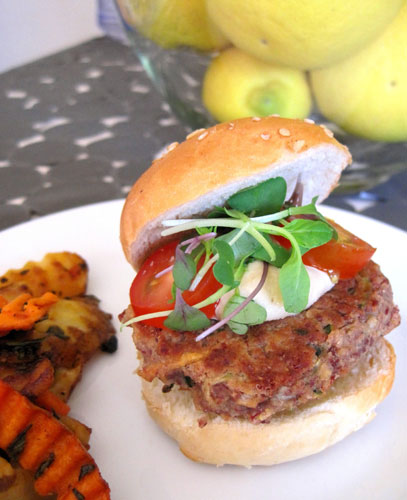 RECIPE
Spork Food's Veggie Burger Sliders
Yields 8 - 10 small patties
Ingredients:
2 Tbsp neutral tasting oil
1 onion, finely diced
1 clove garlic
2 zucchini, shredded or finely chopped
2 carrots, shredded or finely chopped
2 cans organic kidney beans, drained and rinsed
3/4 tsp un-bleached sea salt
1/2 tsp ground black pepper
3 Tbsp vegan Worcestershire sauce (Wizard brand preferred)
2 Tbsp lemon juice
1 Tbsp agave
1/2 cup organic rolled oats
2 Tbsp cornmeal
1/4 cup spelt flour
1/4 cup canola oil, refined coconut oil or other neutral tasting, high heat oil
Instructions:
In a food processor, shred the onion, carrot and zucchini, or use a hand grater. Remove from the food processor and place in a large bow.
Put the large blade in the food processor and add kidney beans, garlic, sea salt, pepper, Worcestershire sauce, lemon juice and agave. Pulse together 5 times. Add oats, cornmeal and spelt flour and pulse until the mixture comes together and pulls away from the walls.
Add the bean mixture to the large bowl with the shredded vegetables. Fold to incorporate. Add more spelt flour if the mixture is too loose.
Heat a large skillet and add oil. With damp hands, form the burgers into 3 inch patties and place in the pan. Cook for approximately 3-5 minutes on each side, or until browned.
///